The lady on the left is the fabulous vocalist and composer
René Marie
. She and her accomplished trio - pianist
John Chin
, bassist
Elias Bailey,
and drummer
Quentin Baxter
- are making a return trip to
The Side Door Jazz Club
in Old Lyme this Saturday (2/27). Last time she was at the venue, she celebrated the release of "
I Wanna Be Evil (With Love to Eartha Kitt)
" (Motema Music), one of the more delightful albums of 2014. Ms. Marie is more than a torch singer bit you can singe your ears with her exciting music. Plus, her ballad singing is just wonderful. As for her stage presence...well, she is graceful, witty, sassy, sexy and soulful.
Doors open at 7:30 p.m. and the music commences 60 minutes later. Call
860-434-0886
for reservations.
Here's a track from the Kitt CD, the delightful "
I Rather Be Burned As a Witch
":
Mike Casey Trio
. The Hartford-area born tenor saxophonist graduated from the Jackie McLean Institute of Jazz at the University of Hartford and has played alongside the likes of trumpeter Charles Tolliver, pianist Marc Cary, trombonist (and one of his teachers) Steve Davis and bassist Dezron Douglas. The saxophone trio has been an honored tradition since Sonny Rollins recorded and toured with various rhythm sections in the mid-1950s (and recorded a number of Lps including "
Freedom Suite
" and "
A Night at The Village Vanguard
"). Joining young Mr. Casey will be bassist
Matt Dwonczyk
and drummer
Corey Garcia
.
For tickets and more information, go to
thesidedoorjazz.com
. To find out more about the saxophonist, go to
www.mikecaseyjazz.com
.
Here's the Trio with a rousing reading of Jackie McLean's "
Little Melonae
":
anna yatskevich
Tenor saxophonist and composer
Ken Fowser
recently released his debut CD as a leader. "
Standing Tall
" comes after 4 CDs co-leading an ensemble with vibraphonist
Behn Gillece
, all, like his debut, on the PosiTone Records label.
Mr. Fowser is bringing his
Quintet
to the
9th Note
, 15 Bank Street in Stamford this Friday evening. It's the same group that recorded "
Standing Tall
" including pianist
Rick Germanson
, trumpeter
Josh Bruneau
(a graduate of the Jackie McLean Institute), bassist
Paul Gill
, and drummer
Jason Tiemann
.
Hanging On
." "
Mode for Red
" frolics at the pace of a high-energy Tyner track. One hears it in the opening chords and theme as well as during Germanson's short but rousing solo. Out of the 12 tracks, there is only one song over 6 minutes and that's the mellow, medium-tempoed "
Timeless.
" "
Filling In The Blanks
" is a blues with one of Fowser's more emotionally rich solos.
The music on "
Standing Tall
" is good and is probably even better in person. The rhythm section is solid without being flashy (Germanson is so fundamentally sound) while both
Ken Fowser
and Josh Bruneau play with taste and, in the case of the trumpeter, with great fire. To find out more about the album, go to
www.posi-tone.com/standtall/standtall.html
. To learn more about the saxophonist, go to
www.kenfowserjazz.com
.
The gig on Friday night starts at 9 p.m. For reservations and more information about the venue's weekly calendar, go to
www.the9thnote.com
or call
203-504-8828
.
Here's the title track:
*******************************************************
David Berkman
, saxophonist
Tim Armacost
, and drummer
Gene Jackson
formed the
New York Standards Quartet
in 2005 and wound up spending a lot of time playing in Japan. Each musician had his own career performing and teaching but so much enjoyed each other's company that they continue to get together each year for a trip to the Orient.
They've managed to record 4 CDs over the decade for 4 different labels. But "
Power of 10
" changes that part of the story in that it is the 2nd straight release to be issued by
Whirlwind Recordings
. There s also a new bassist n the group (
Yosuke Inoue
was featured on the first 2 and
Daiki Yasukagawa
on the next 2) and it just happens to be the head of the label,
Michael Janisch
.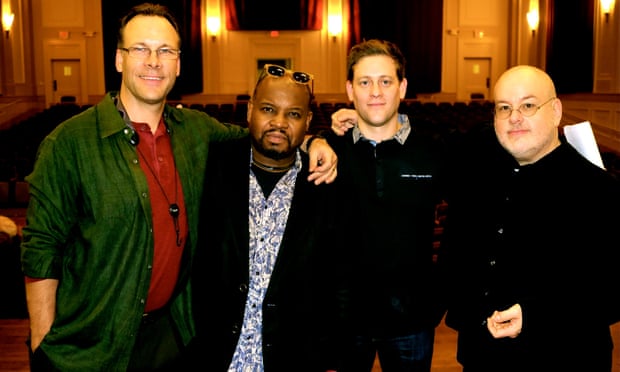 www.theguardian.com
The band's format has not changed as they continue their personal spin on "standards." They like to put their own spin on these songs so there are 3 variations of "
On Green Dolphin Street
" including Berkman's concise solo piano
Doll's Phone Cause
" (:26 seconds) and Armacost's "
Green Doll's Phone
" and "
Doll's Phone Effect
." There is a medium tempo take on "
All Of Me
" (with Armacost on soprano) that has the energy of a McCoyTyner piece. The rhythm section really pushes these piece forward and the saxophonist whirl and dances above them. The choice of Elvin Jones' "
Three Card Molly
" is an inspired one as the powerful work is a highlight of the album. Jackson does not choose to imitate Mr. Jones but plays with his own sense of thunder; his intensity and the incessant pain chords push the Armacost (on tenor) to really dig in. Berkman follows and display his own sense of vigorous combination of chords and rushing single-note runs. Jackson's gentle but active brush work adds a lighter touch to the bittersweet reading of Billy Strayhorn's "
Lush Life
." Janisch is an excellent addition to the group, not only because he keeps the bottom of the sound moving but also he is an articulate and melodic soloist (one hears all that and more on the short "
Secret Fondness
", his intro to "
Hidden Fondness
", Berkman's hard-swinging take on "
Secret Heart
").
"
Power of 10
" is notable for its powerful music, intelligent interactions, excellent solos and music more. The
New York Standards Quartet
takes music many listeners are familiar with, styles we can put a name to, and creates a program that illustrates just how alive jazz can be.
For more information about the band, go to
nysq.org/home/
and to
www.whirlwindrecordings.com/power-of-10/
.
Here's the NYSQ in concert with bassist Janisch from 2011:
Ed Cherry
, a New Haven CT native, first came ti critical notice as a member of trumpeter Dizzy Gillespie's bands from 1978 until 1992. His clean, clear, tone, his intelligent and funky chording, and his ability to make a melody stand out, all of that plus solos that incorporate jazz and blues, makes his music so attractive.
"
Soul Tree
" is his second release for PosiTone Records. Like 2012's "
It's All Good
", the guitarist utilizes an organ-drums-guitar format, this time with utilizing the talented duo of Philadelphia-based musicians,
Kyle Koehler
on the Hammond B-3 and
Anwar Marshall
on drums. The majority of the material covers a wide swath of the jazz idiom, from Jimmy Heath's "
A New Blue
" to Mal Waldron's "
Soul Eyes
" to John Coltrane's "
Central Park West
" yet the program opens with the trio's funky, high-energy, take on Kool and the Gang's "
Let The Music Take Your Mind
." Marshall's spirited drumming pushes his cohorts hard and with Cherry and Koehler respond with brawny solos. Cool organ tones lead the band into a quiet, tuneful, reading of Harold Land's "
Ode to Angela
" - Cherry's solo is so bluesy, the rippling phrases rolling over the movement of the rhythm section. The trio swings the heck out of Freddie Hubbard's "
Little Sunflower
" (note the excellent cymbal work of Marshall, how he pushes the tempo but the ride cymbal stays steady.)
Rachel's Step
" and the cool medium tempo ballad "
Little Girl Big Girl
". The former jumps atop the propulsive drumming and insistent organ chords yet the melody unfolds over several changes in tempo. The give-and-take with Marshall at the end of the first chorus is a pleasant surprise; that seems to give the piece its energetic backbone and the solos are spirited. The latter sounds and feels personal, as if the composer was painting a portrait of someone he deeply loves. The interaction of the guitar and the organ throughout the song plus the smart brushwork of Marshall at the beginning and the end stands out. Koehler's solo adds a bit of heat after Cherry's cool playing (a touch of Wes Montgomery shows up in his solo) but never shatters the calm demeanor of the tune.
"
Soul Tree
" lives up to its name on many levels; the music is certainly soulful and
Ed Cherry
pays tribute to his "roots" by playing songs that influenced him to create his own "voice." The contributions of Kyle Koehler and Anwar Marshall go a long way to making the album a most enjoyable listening experience.
For more information, go to
edcherrymusic.com/live.html
or
www.posi-tone.com/soultree/soultree.html
.
Here's "
Rachel's Step
":