Some people are complaining that the Summer is going too quickly; therefore, get out and enjoy some of the great live music in CT.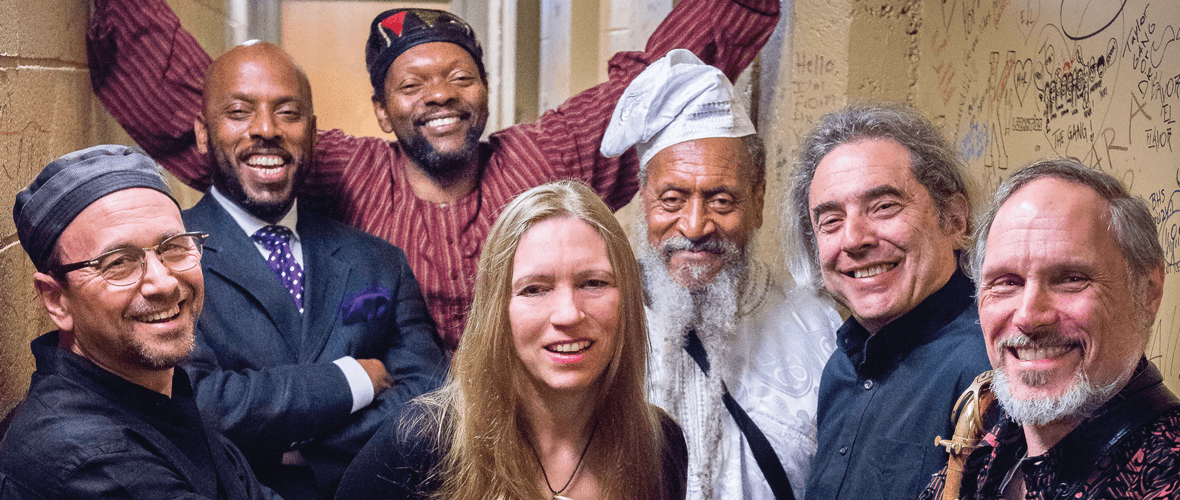 Tuesday evening (or tonight by the time this gets posted, the
Summer Sounds at Harbor Park
in Middletown presents the
Afro-Semitic Experience
at 7 p.m. The septet, formed by bassist
David Chevan
and pianist
Warren Byrd
, is in its 19th year (although Byrd and Chevan were a duo for the first few years) and going strong. With the percussion tandem of
Baba David Coleman
and
Alvin Carter
setting the pace plus the splendid work of
Will Bartlett
(saxophone, clarinet),
Stacy Phillips
(violin, dobro), and
Saskia Laroo
(trumpet), the blend of African American spirituals and jazz with Jewish liturgical and cantorial music is filled with spirit, joy, and serious rhythms.
The performance is free and open to the public. Parking down by Harbor Park is sometimes an issue so you may want to park in the lot by City Hall (DeKoven Drive) and walk under the highway (yes, there is a tunnel) and make your way down to the riverside.
To find out more about the group, go to
afrosemiticexperience.net
.
theday.com
Busy three-day weekend at
The Side Door Jazz Club
in Old Lyme, beginning on Thursday (8/11) with the
Greg Piccolo Quartet
. Piccolo (pictured left), a tenor saxophonist best known, perhaps, for his quarter century of making music with Roomful of Blues, has been playing since his early teens. He left Roomful of Blues over 20 years ago, building a career in this country and overseas playing "jump-blues", a style made popular by saxophonist Louis Jordan in the 1940s. Piccolo plays with gusto, whether the music be r'n'b, soul or rock.
Joining him onstage will be
Shinichi Otsu
(keyboards, vocals),
Bob Ruggiero
(drums) and an unnamed bassist. The Door opens at 7:30 p.m. and the band starts "blowing" at 8:30. For tickets and more information, go to
thesidedoorjazz.com
.
escarraz photography
Friday, Jan and Ken present trumpeter and vocalist
Ben Benack
with his excellent
Quartet.
Benack, who is only in his mid-20s, comes from Pittsburgh, PA, where his family (he's #III) since the 1940s. He's recorded with drummer Ulysses Owens and trombonist Michael Dease plus played with Christian McBride's Big Band, the Mingus Big Band, and Bobby Sanabria's Afro-Cuban Jazz Orchestra. For the past several years, he's been the trumpet voice behind vocalist Josh Groban.
What you will discover is that Benack has a pretty decent voice himself and he's got a fine band, including pianist
Emmett Cohen
, bassist
Alex Claffy
, and drummer
Charles Goold
.
To find out more, go to
www.bennybenackjazz.com
. For reservations, call
860-434-0886
.
Here's a duo track featuring voice, trumpet and piano:
On Saturday night, the fine young saxophonist (tenor, soprano)
Tia Fuller
comes to Old Lyme and this should also be quite a show. Ms. Fuller has played with Beyoncé, been assistant musical director for Esperanza Spalding's Radio Music Society touring band, and recorded with drummer Teri Lyne Carrington's Money. Three of her four albums have been released on Mack Avenue Records with the latest "
Angelic Warrior
" issued in late 2012.
She's bringing quite the ensemble, all of whom have appeared on her albums; they include her sister, pianist
Shamie Royston
, her brother-in-law and drummer
Rudy Royston
, and bassist
Mimi Jones
. Their familiarity with each other and the material allows them to take chances and gives new life to older material plus try out newer material in the presence of a friendly audience.
The music, as usual, begins at 8:30 p.m. For more information, go to
thesidedoorjazz.com
or call
860-434-0886
. For more about Ms. Fuller, go to
www.mackavenue.com/artists/tia-fuller
. Her own website is being revamped.
Here is "
Tailor Made
" from her latest album:
The Uncertainty Music Series
presents the trio of
Colin Fisher
(saxophone),
Mike Pride
(drums, percussion), and
Carl Testa
(bass, electronics) at 8 p.m. in the performance space of
Never Ending Books
, 810 State Street, New Haven. Expect this to be an evening sonic explorations, all improvised, by three musicians who are very busy. Pride has worked with John Zorn, Nels Cline, Tim Berne, Mary Halvorson, Jon Irabagon, and so many more while Fisher is currently in four different ensembles. He has worked with Professor Anthony Braxton, Joe McPhee, and dozens of musicians in his native Canada. As for Carl Testa, he's worked with Anthony Braxton, is the house manager for the Firehouse 12 Concert series, and the curator of the Uncertainty Music Series.
For more information, go to
uncertaintymusic.com
.