Over the course of 2+ decades, alto saxophonist/composer
David Binney
has issued 18 CDs as a leader or co-leader. 5 of them have been released by the Dutch
Criss Cross
label. Those of you familiar with label head
Gerry Teekens
and his methods (basically, "here's the studio, you've got one day" - other than that, hands-off) know that he has eclectic taste. For Binney, who is a most "prepared" musician, the producer's attitude gives him a lot of freedom. Yet, compared to other recordings on the label, Binney rarely, if ever, makes a pure "blowing" session - his Criss Cross CDs sound as smartly constructed as the ones released on his own Mythology label (or, for that fact, any label he has released albums on.)
"
Lifted Land
", Binney's 19th CD and 6th for Criss Cross as a leader), takes its name from the book "
Bury My Heart at Wounded Knee
" and several of the song titles refer back to the book. Featuring pianist
Craig Taborn
, bassist
Eivind Opsvik
and drummer
Tyshawn Sorey
(his first "date" with Binney as leader - they recorded together on pianist John Escreet's PosiTone release), the music stretches in many directions, an often stunning combination of composition and improvisation. Sorey brings a different feel to the rhythm section than Dan Weiss, Binney's most "regular" drummer over the past 6 years - he can swing with great intensity yet uses space and silence in very creative ways. On "
As Snow Before a Summer Sun
" (at 18:34, the longest work Binney has even put on record), Sorey's solo is a minimal masterpiece, built from tolling gongs, quiet cymbal splashes, and hand percussion. The piece moves from short statements of the theme to unaccompanied solos to reveal one of Binney's most moving melodies and on to a striking alto sax improvisation over a slowly rising intensity from the rhythm section.
The other long track (11:54) is "
The Blue Whale
" - built off an unaccompanied bass solo, the music features a long and luxurious melody section that opens to a long, fiery, alto solo (Binney can really move from flowing phrases to incendiary "blowing" in a heartbeat) with Taborn and Sorey providing the kindling as Opsvik holds the piece together. Taborn's solo has an intensity akin to one of the late Don Pullen's incredible two-fisted piano journeys. Late in the piece, he and Sorey lock into a groove that gives way to the drummer's propulsive solo beneath the alto-piano reiteration of the theme.
It is tempting to write about all 8 pieces but, just as David Binney's vision for the recording was a journey of discovery, it should be the same for the avid listener. The song titles, such as "
Curious About Texas
" and "
Losing The Central Valley
", speak to the composer's inquisitive nature about the world (the latter song referring to environmental issues in the state where Florida-native Binney grew up.) Listen to the splendid melodies, to how the musicians interact as the music allows the room to "converse", to the power of the improvisations as well as to the power of the "quiet." Every piece, from the joyous minimalism of "
Fanfare For Basu
" that opens the program to "
Red Cloud
", Craig Taborn's unaccompanied solo composition at the close of the CD, has its rewards that reverberate in one's mind for hours.
David Binney
continues to create music that is mature, riveting, and generous. Simply put, "
Lifted Land
" is excellent music, worthy of your attention. For more information, go to
www.davidbinney.com
.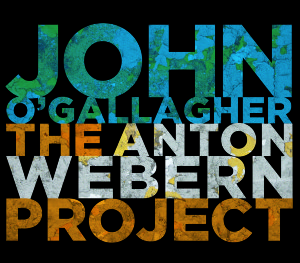 First came across alto saxophonist/composer
John O'Gallagher
when he released 3 CDs for the CIMP label between 2003-06. He had been featured on several recordings before the first CIMP ("
Axiom
", featuring Tony Malaby, John Hebert and Jeff William) but this was his initial attempts as a leader. Since then, recordings have appeared on Fresh Sounds New Talent and Red Piano Records. He continues to work with bassist Hebert and drummer Williams in the latter's quartet as well as working with bandleader/composer Asuka Kakitani, pianist Frank Carlberg and drummer Owen Howard.
His new CD, "
The Anton Webern Project
" appears on bassist Michael Janisch's Whirlwind Records. O'Gallagher has been attracted to Webern's music since his undergraduate days at The Berklee School. The Austrian composer (1883-1945) was a student of Arnold Schoenberg in the early years of the 20th Century and is considered the "Father of Serialism." O'Gallagher takes a different view of the music. With his exceptional company of musicians -
Matt Moran
(vibraphone),
Pete McCann
(electric guitar),
Russ Lossing
(Hammond Organ, Fender Rhodes, piano),
Johannes Weidenmuller
(bass),
Tyshawn Sorey
(drums) and
Margret Grebowicz
(voice) - the saxophonist/arranges these 8 pieces as if Webern was composing today and working in the creative music idiom. Pieces such as "
Quartet (after Op. 22)
" and "
Schnell (after Op.27)
" are sonically akin to the music Ornette Coleman has created with his "Dancing In Your Head" projects and beyond. Throughout the program, Sorey lays down quite a beat while Weidenmuller creates a thick bottom. A "ragged" swing enlivens "
Ways Going Over (after Op. 31
)" during Moran's solo (pleasing chunky rhythm guitar and bubbly organ in support) before moving in to a straight-ahead groove for O'Gallagher's romp. The interweaving of saxophone, guitar, vibes, organ and drums create a hypnotic opening to "
The Secret Code (After Op.
28)
" before Weidenmuller brings it all together with his authoritative bass lines. Still, the stop-start rhythms behind the solos give the piece a choppy, funk, feel. The lively interaction of the rhythm guitar and organ behind Moran shines as does McCann's high-volume romp (he can really let loose).
Ms. Grebowicz (who released a CD on Sunnyside in 2010 under her first name only) appears on 2 tracks. Her voice blends neatly into the ensemble on "
Three Songs (after Op. 25
)", her airy voice supplying the lyrics written by Webern's friend, the German poet Hildegard Jone (1891-1963). She returns for the final track, "
All This World (after Op. 31
)", adding a wordless vocal to the opening and closing theme.
Kudos to the excellent keyboard work of Lossing; not only is his accompaniment fascinating, but his solos have a fire that feeds the imagination of the other musicians. His overlaying of keyboards also catches one's attention, often doubling lines on Rhodes and organ while often adding acoustic piano to the track.
People unfamiliar with the music of Anton Webern may be curious to hear pieces such as "
Opus 22 (for tenor saxophone, violin, clarinet and piano)
" or guitarist Bruce Arnold's Spooky Action quartet that blended woodwinds, electric guitar, bass and drums into a sonic exploration of the composer's "5 Canons, op. 16" and 5 Movements for String Quartet, op. 5" (check that out
here
).
John O'Gallagher
, like many creative musicians, uses Webern's music as the foundation for music that appeals on many different levels, i.e. group interactions, spiky and funky rhythms, fiery solos and much more. "
The Anton Webern Project
" will appeal to fans of the Claudia Quintet (yes, Matt Moran is in that group as well) but also to listeners who enjoy creative challenges, music that hits hard with excellent arrangements and feisty musicianship . For more information, go to
www.johnogallagher.com
.