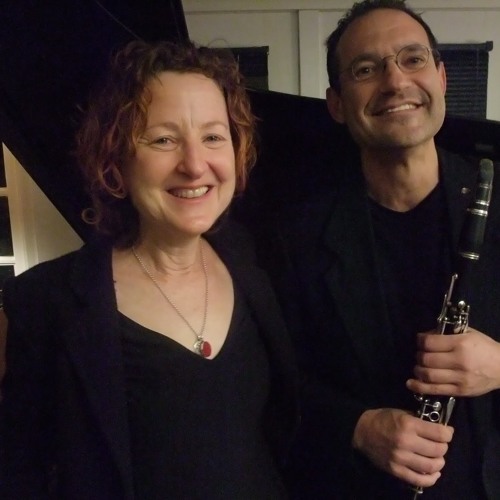 Pianist Myra Melford is no stranger to Firehouse 12, 45 Crown Street, in New Haven. This Friday (November 14) marks her 6th appearance as a performer, 4th as a leader or co-leader. For clarinetist Ben Goldberg, this is his initial appearance as a performer. He appears on the venue's record label as a member of Ms. Melford's Be Bread ensemble, the quintet that released "The Whole Tree Gone" in 2010. In 2013, Firehouse 12 Records also released the pianist's brilliant solo CD "Life Carries Me This Way."
Ms. Melford is no stranger to the duo setting, having recorded 2 fine CDs with reed master Marty Ehrlich and one each with drummer Han Bennink, violinist/violist Tanya Kalmanovitch and fellow pianist Satoko Fujii. She has distinguished throughout her career (which is well into its third decade) as a thoughtful and fearless composer, an exciting soloist and an as a performer who follows her music, whether it be working in large and small ensembles, studying in faraway countries or working in multimedia. Goldberg, who grew up in Denver, Colorado, has played clarinet met of his life. He first came to critical notice in the early 1990's as a member of The New Klezmer Trio, an ensemble that recorded 3 CDs for John Zorn's Tzadik label, broke up in 1996 and reunited in 2009 for a recording that celebrated the life of Goldberg's father. He's a member of the avant-classical group Tin Hat and has released numerous recordings as a leader or co-leader, the latest being a trio recording of Thelonious Monk compositions with guitarist Adam Levy and drummer Smith Dobson - titled "Worry Later", the download only album appears on Goldberg's BAG Productions label.
The Melford-Goldberg duo has been working and creating together for 5 years and, although they have yet to release a CD, you can see and hear excerpts from their 2013 European on the pianist's website (click
here
) and several more on the SoundCloud page created by the clarinetist (click
here
).