The Side Door Jazz Club
in Old Lyme celebrates the last week of Summer (some of us have to back to work) with yet another two nights of strong music. Friday (8/26), the venue welcomes pianist and vocalist
Champian Fulton
for an evening filled with standards, jazz classics, and fine originals. Earlier this year, Ms. Fulton released "
After Dark
", an album dedicated to the music of Dinah Washington, played by an impressive ensemble including bassist
David Williams
, drummer
Lewis Nash
, and, on four tracks, trumpeter
Steven Fulton
. The music is filled with classic tracks and it's quite a delight.
(Update) - Champian has a new rhythm section, with bassist
Adi Myerson
and drummer
Ben Zweig
. Trumpeter/flugelhorn player Fulton joins the band as well. You can find out more about these folks and their bandleader by going to
www.champian.net/news/2016/8/11/backstage-pass-meet-the-band
. Ms. Fulton is an impressive musician so be prepared for a fun evening. Doors open at 7:30 p.m. for an 8:30 show. Call
860-434-0886
for more information and reservations.
Give a listen:
thesidedoorjazz.com
On Saturday night, Jan and Ken welcome the
Jeremy Baum Organ Trio
for an evening of funk and blues. Joining the Woodstock, NY, native will be guitarist
Chris Vitarello
and drummer
Eric Perez
. The Trio plays a mix of originals and classics by people such as James Brown, Beck, Prince, and others - it's the perfect music for a warm summer night as it makes you want to dance. One can hear the influence of the Smiths on Baum's style, that is Jimmy, Johnny, and Dr. Lonnie Liston but also Charles Earland.
The music starts at 8:30 p.m. For more information and reservations, go to
thesidedoorjazz.com.
Here's the JB3 playing a tune by another JB: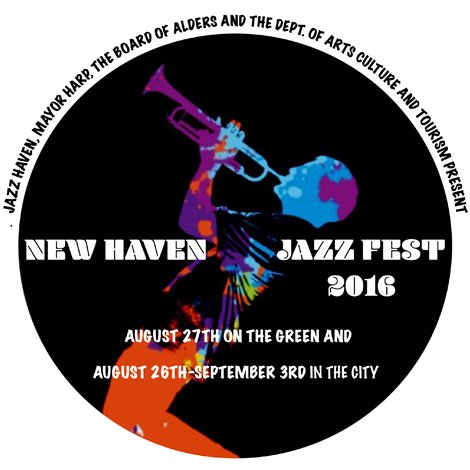 The New Haven Jazz Festival
takes place on Saturday August 26 on the
New Haven Green
. The music starts at 6 p.m. with the
Neighborhood Music School Premier Jazz Ensemble,
a group from the school just a few blocks from the Green.
At 6:45, the
Mitch Frohman Quartet
takes the stage. Frohman, who plays saxophone and flute, had a long association with music legends Mongo Santamaria and Tito Puente. His latest album, "
To Daddy With Love
", was issued in 2013 on Truth Revolution Records and features pianist
Zaccai Curtis
, his brother
Luques
on bass and drummer
Joel Mateo
- the CD features songs to dedicated to his employers. For the New Haven gig, both Zaccai and Mateo will play with Frohman and they will be joined by bassist
Alex "Apolo" Ayala
.
Here's Frohman's Latin-Jazz Quartet in action:
Headlining the evening is New Haven native and alumnus of the Neighborhood Music School, pianist
Christian Sands
. Sands, who has toured and recorded with the likes of Christian McBride, Dianne Reeves, Bobby Sanabria, James Moody, Wynton Marsalis, and a slew of other great names, is a powerful and melodic player who is only in his mid-20s! He recorded and released several albums before he was 16 years old while his latest recording, a double album titled "
Take One: Live at Jazzhaus Montmartre Copenhagen
", was issued in 2015 in Denmark (it's available in the States at
www.amazon.com
and at
www.emusic.com
) - the 2014 Trio date features the fine bassist
Thomas
Fonnesbæk
and the veteran drummer, 76-year old
Alex Riel
. Mostly standards and fascinating jazz compositions, the album finds the young pianist in full stride with a great rhythm section.
Not sure who will be beside him for the Christian Sands Quartet gig at 8 p.m. in New Haven but young Mr. Sands just completed his debut recording for Mack Avenue Jazz - he might bring along some of the fine people from those sessions.
To find out about the excellent young pianist, go to www.christiansandsjazz.com. For more information about the New Haven Jazz Festival - make sure to check out all the different shows in New Haven restaurants and bars between August 26 and September 3 - go to http://jazzhaven.org/2016-new-haven-jazz-festival/.
Here's the Mr. Sands and the Danish rhythm section in action: