This Saturday night (9/28), the
Uncertainty Music Series
presents cellist
Charles Curtis
, one of today's celebrated champion of new and experimental music. Curtis, who studied at the Juilliard School in New York City and joined the faculty of Princeton University upon graduation, is also known as the finest interpreter of the music of La Monte Young and was also involved (in the 1980s and 90s) in the NYC's "Downtown Music" scene. In recent years, Curtis, who also serves on the faculty of the University of California/San Diego, has concentrated on solo and duo works for his instrument and creative collaborators. To that end, the concert he will present on Saturday at 8 p.m. in T
he BIG ROOM
(in Erector Square), 319 Peck Street in New Haven, features music by Wesleyan Professor Emeritus Alvin Lucier, Christian Wolff, Allison Knowles, Eliane Radigue and Tashi Wada. In fact, Mr. Wada will be on hand to accompany the cellist on open reeled tape deck (!). For more information, go to
uncertaintymusic.com
.
Today, September 24, Cuneiform Records releases "
September
", the 7th CD by
Claudia Quintet
. Formed in 1997 by drummer/ composer
John Hollenbeck
, the "Claudes" play music that is blessedly undefinable, thanks to the far-ranging compositions and the intriguing makeup of the band. Saxophonist/clarinetist
Chris Speed
and vibraphonist
Matt Moran
have been there since the beginning as has bassist
Drew Gress
who appears on 6 of the new CD's 10 tracks. His replacement
Chris Tordini
plays on the other 4 tracks and is the band for the CD Release tour. Completing the Quintet is accordionist Red Wierenga, who replaced original member Ted Reichmann in 2011. The tour is actually a journey that begins October 2 at Bucknell University in Lewisburg, Pennsylvania, and ends on October 24 at Jazzmandu/ The Katmandu Jazz Festival. In between, the CQ performs in New York City, Oregon, Washington State and California.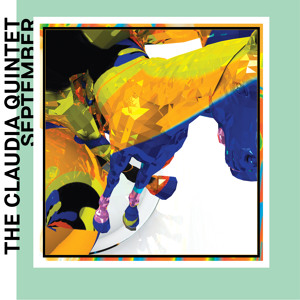 For us lucky folk in Connecticut, the band performs Friday October 4 at 8:30 and 10 p.m. as part of the
Firehouse 12 Fall 2013 Concert Series
. They'll be playing music from the new CD, a group of compositions dedicated to the bandleader's favorite month, one in which he usually goes on composing retreats in spots around the world. Like the month that starts in summer and closes at the beginning of autumn, "
September
" is a transitional recording that not only introduces new members but has new material and is the ensemble's first release in 3 years without a guest artist. Each of the 10 songs is connected to a date and has a title. For instance, "
September 12th: Coping Song
" is a musical reaction to the events of September 11th, 2011 while another piece, "
September 9th: Wayne Phases
", is dedicated to Wayne Shorter. "
September 29th: Me Warn You
" features the words of President Franklin Roosevelt (from his 1936 campaign) cautioning the nation to beware of his smooth-talking opposition - the music is built upon FDR's speech patterns and manipulation of his phrases. "
September 17th: Loop Piece
" features a plaintive melody but also spoken word, a barking dog and other sounds.
For more information about the group's tour, go to
claudiaquintet.com
. To hear and purchase the new CD, go to
cuneiformrecords.bandcamp.com/album/september
. For more information about the concert at Firehouse 12 (and the rest of the schedule), go to
firehouse12.com
.