Firehouse 12
, 45 Crown Street in New Haven, is in the midst of its
Fall 2012 Concert Season
and already have had several shows sell. The performance space/recording studio has been doing a brisk "walk-up" business. However, this Friday (October 26) is already sold out - every seat in both sets for the
Fred Hersch Trio
is taken and there is a pretty large waiting list as well. That does not mean you shouldn't call 203-785-0468 and put your name on the list (one never knows). Mr. Hersch is touring in support of his excellent new Palmetto CD, "
Alive at
The Vanguard
", a 2-disk set recorded at The Village Vanguard in New York City featuring bassist
John
Hebert
and drummer (and Hartt School of Music graduate)
Eric McPherson
. Subbing for Hebert will be bassist
Johannes Weidenmueller
but one should should expect the high level of interplay, melodic and harmonic invention as well as strong solos. To find out more, go to
firehouse12.com
or
www.fredhersch.com
.
2 CDs in constant rotation as I drive back and forth to school can both be highly recommended.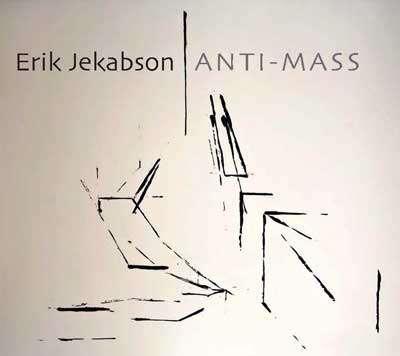 Composer/trumpeter
Erik Jekabson
has just issued his 4th CD as a leader. "
Anti-Mass
" (Jekab's Music) is the Bay Area musician's musical renderings of wandering through various museums and imagining "what the artwork would sound like." Bringing this music to life is an impressive sextet including
Dayna Stephens
(tenor saxophone),
John Wiitala
(acoustic bass),
Smith Dobson
(drums, vibraphone), Mads
Tolling
(violin) and
Charith Premawardhana
(viola). Not only are Jekabson's compositions well-thought out but his arrangements are also quite intelligent. The mixing of the strings with the trumpet and saxophone on "
A New Beginning
" is alluring; from the pizzicato of Tolling and Premawardhana to the floating notes of Jekabson's flugelhorn solo to Stephens' intense solo, the music floats atop gentle rolling bass lines and steady drumming. The title track, inspired by British artist Cornelia Parker's work of the same name (read about it
here
), is a tour-de-force that spans nearly 16 minutes. The music moves slowly forward, the rhythm like a slow tango with the melody (played on tenor sax and muted trumpet) moving likes leaves blowing in a soft breeze. Later in the piece, a gospel music-inspired melody leads into a rollicking beat, several more short but sharp solos and a rousing finish.
The music ranges from the boppish blues of "
Portrait of Miss D
" to the lyrical "
Park Stroll
" to the charging rhythms and passionate melody of
"To Be DeYoung Again
" (dedicated to San Francisco's DeYoung Museum where the works that inspired the music are on exhibit). Jekabson's arrangements allow for each musician to shine and it's a tribute to their dedication to this music that makes the entire program feel seamless. Like the artwork that make
Erik Jekabson
stop, think and create, "
Anti-Mass
" will give thoughtful listeners the opportunity to make colors move, images dance, and ideas stretch. For more information, go to
www.erikjekabson.com
.
Drummer
Dafnis Prieto
has his own label, Dafnison Music, and has released several CDs as a leader. The Cuban-born Prieto is now releasing (and performing on) the American debut of his fellow countryman
Roman Filiu
's smashing new recording, "
Musae
." Joining the saxophonist are 2 other fellow countrymen, bassist
Reinier Elizarde
and pianist
David Virelles
. Americans
Adam Rogers
(guitar) and
Marcus Gilmore
(drums) appear on 6 of the 12 cuts. Filiu, who plays alto and (occasionally) soprano, writes pieces that combine post-mainstream elements with progressive Latin rhythms - there are moments where the music might remind one of Miguel Zenon but Filiu's attack on alto is quite different, somewhat softer. Virelles, whose upcoming CD on Pi Recordings is mighty impressive, plays with fire and grace throughout the program, whether galloping atop the exciting percussion of Prieto on "
La Montana
" or blending his raindrop-like notes with the rippling alto lines on "
Ocho De Mayo
." Rogers wraps his crisp notes around Filiu's hearty alto sax on "
Dark Room
". He switches to acoustic on the ballad "
Ojos
", playing counterpoint to Virelles' piano and then providing quiet support for the bustling alto solo. There are 3 short impressionistic pieces titled "
Episode I: Riding Waves
", "
Episode II: Rebellion
" and "
Episode III: The Fall
", just excerpts and, while they are interesting pieces, take away from the flow of the program.
But, that is a minor misstep in an otherwise delightful program. The blend of pulsating rhythms with well-drawn melodies pulls the listener in. The work of co-arranger/pianist Virelles is vital to the success of this music as are the fine contributions of Adam Rogers. Roman Filiu, who has toured and recorded with saxophonist David Murray, is a new voice and you should pay attention. For more information, go to
www.dafnisonmusic.com
.