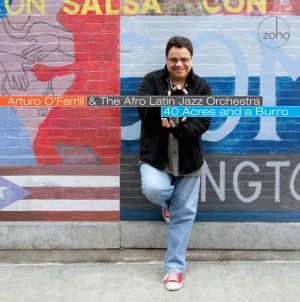 40 Acres and a Burro - Arturo O'Farrill & The Afro Latin Jazz Orchestra
(ZOHO) -Composer/arranger/pianist O'Farrill leads this 18-piece aggregation (plus guests) through a program that is a delight from start to finish. With several new works by the leader and a fascinating potpourri of pieces by composers young and old, this CD covers quite an aural landscape. Here, Latin Music includes Peruvian Gabriel Alegria's elegant
"El Sur
", complete with acoustic guitar, cajon, a sweeping arrangement and the crackling trumpet of Jim Seeley. One hears the Celtic classic "
She Moves Through The Fair
", with the plaintive violin of Heather Martin Bixler leading the way through her husband David's multi-layered arrangement. Dizzy Gillespie's "
A Night in Tunisia
" sounds fresh and bright, the classic melody clothed in a shimmering arrangement courtesy of Michael Philip Mossman. Solos by John Walsh (trumpet), Earl McIntyre (trombone) and David De Jesus (soprano saxophone) raise the temperature even higher. Paquito D'Rivera makes several appearances on clarinet, both on pieces by Brazilian composers. He and ALJO baritone saxophonist Jason Marshall trade phrases on Hermeto Pascoal's playful "
Bebê" -
take time to savor the graceful and exquisite arrangement by Jovino Santos Neto. D'Rivera's clarinet is playful and sensuous on Pixinguinha's "
Um a Zero
", the classic choro from the 1940s. Here, Nailor "Proveta" Azevedo's arrangement mixes classic big band sounds with a touch of samba and bebop - it's hard to sit still as the piece rushes then tip-toes forward.
O'Farrill contributes 3 of the 11 pieces, including "
A Wise Latina
", a multi-sectioned tribute to Supreme Court Justice Sonia Sotomayor. French horns add a touch of pomp to the splendid brass arrangement. Add in the reeds and the piece has such an expansive feel. As trumpeter Seeley flies over the high-powered rhythms created by the 3-member percussion section and the shimmering horns and reeds, the piece races to the finish line. "
Ruminaciones Sobre Cuba
" packs a lot of the history of Cuban jazz into 4'55", from a powerful piano opening to Adam O'Farrill's (the 3rd generation) expressive declaratory trumpet work to Bobby Porcelli's alto sax and Reynaldo Jorge's trombone soaring over the fiery work of the rhythm section. The title track closes the program; here, the composer not only pokes fun at American perceptions of Latinos but also creates a multi-sectioned work that jumps out of the speakers. O'Farrill's piano solo is a highlight, building off the powerful rhythms created by his left hand.
There's so much good music on "
40 Acres and a Burro
", a rambunctious yet respectful program filled with sly humor, excellent arrangements, spirited solos and attractive melodies that make you want to sing along. No longer part of the Lincoln Center arts conglomerate, the Afro Latin Jazz Orchestra, judging by the quality and scope of this CD, is alive and well in the 21st Century. For more information, go to
www.afrolatinjazz.org/
.
Slipstream - Noah Haidu (Posi-Tone Records)
-The Los Angeles, CA-based Posi-Tone keeps finding new artists deserving of our attention. Haidu, a Virginia native and graduate of Rutgers University, is no exception. His debut session as a leader features the fine front line of
Jeremy Pelt
(trumpet) and
Jon Irabagon
(alto sax) with the solid rhythm section of
Chris Haney
(acoustic bass) and drummers
John Davis
or
Willie Jones III
(on 3 tracks).
The blend of Pelt and Irabagon, 2 players who know the history of their respective instruments vis a vis jazz, makes for intriguing music. The opening track, "
Soulstep
", has the feel of early 1960s Horace Silver with its funky rhythms and "sweet" solos. "
Where We Are Right Now
" moves in similar fashion but the piece feels somewhat more exploratory - one hears the change in the shifting tempi (kudos to John Davis for really pushing the band.) The pianist really dances over the active rhythm section, spurring on the bassist and drummer to a higher intensity. Irabagon, who's best known for his work in
Mostly Other People Do the Killing
as well as being the winner of the 2009 Thelonious Monk Competition, sinks his teeth into a passionate solo. Pelt, who has developed into a masterful player, takes a lovely solo on "
Take Your Time
", a ballad on which Haidu's solo builds quietly but firmly into a soulful expression. Pelt's bluesy solo on "
The Trouble Makers
" gives the piece a Jazz Messengers feel, a la the ensemble featuring Lee Morgan and Wayne Shorter. "
Break Tune
" blends the influences of Monk, Herbie Hancock and Geri Allen into a most funky concoction, the trumpet and saxophone trading phrases over Davis's "fatback" drumming.
The program also includes several trio tracks (sans sax and trumpet) - there is the fast-paced romp through Cole Porter's "
Just One Of Those Things
" and a sweet ballad titled "
Float
." On the latter track, bassist Haney supplies fine counterpoint to the pianist's thoughtful solo work. That's one of Haidu's strength in that he does not try to blow the listener away with prodigious technique - his solos unwind gradually, growing out from the melody or harmonic patterns.
"
Slipstream
" won't blow you away with fiery solos or breath-taking rhythms but impresses with its subtle variations on classic sounds, the short but pithy solos and the classy rhythm section work. Noah Haidu can certainly play and, in his quickly maturing compositional style, he creates pleasing musical playgrounds for his band. For more information, go to
www.noahhaidu.com
.
Here's the opening track of the CD, courtesy of Posi-Tone Records and IODA Promonet:
Soulstep
(mp3)