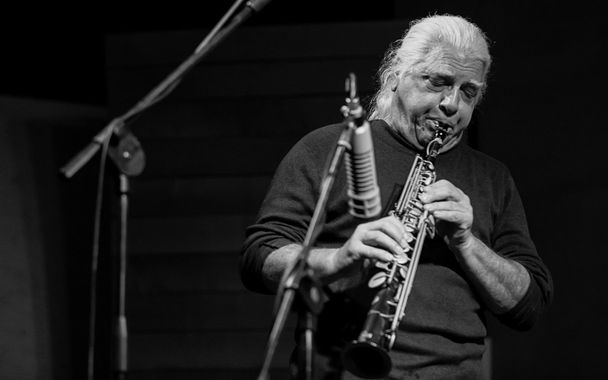 'Tis the weekend of the
Litchfield Jazz Festival
(go to
litchfieldjazzfest.com
to check out the fine lineup) but you also have the unique opportunity to see and hear one of the finest improvisers in the United States.
Vinny Golia
, born in Fort Apache, the Bronx, New York City in 1946, moved to the Los Angeles, California, in the late 1970s, to perform and to teach. If you look closely at the picture on the left, you'll see him standing amidst a group of saxophones and, chances are very good that he plays each one during a performance. He started the Nine Winds Records label to release his own music and has gone on to document many of the West Coast finest players, composers and conceptualists. People like trumpeter Bobby Bradford, guitarist Nels Cline, clarinetist John Carter, trombonist George Lewis, trumpeter Wadada Leo Smith, and bassist Mark Dresser are among the scores of musicians on the independent label.
This Saturday evening at 8 p.m.,
Vinny Golia
(reeds galore) joins
Louis Guarino
(trumpet), Chris Cretella (guitar) and
Adam Matlock
(accordion) for an evening of improvisational conversations in the performance space at
Never Ending Books
, 810 State Street in New Haven. Should be a fascinating concert, full of fire and feistiness. For directions, go to
www.neverendingbooks.net
.